FAQ
---
Some questions that students and parents ask frequently.
How will coronavirus (COVID-19) restrictions affect JumpStart sessions?
We are building on our experience with Zoom from 2020 and 2021. We have Zoomed with almost 200 students since the start of the pandemic and are confident that this will continue to work well in the future. The success of your essay remains our promise and our priority.
What work will be accomplished at JumpStart Main Line?
Students come to Zoom class on Day 1 with nothing. We take you through introductions to this type of writing, some examples, and idea-generation exercises, and then you write and conference, conference and write.
During in-person classes (2013-2019), over 75% of our students left after four days with their Common App essay completed. The remaining 25% were able to email with us until the end of July with questions and revisions. For the summers of 2020 and 2021 on Zoom, the first-week completion rate rose to over 80%. Conferences occur one-on-one in Zoom breakout rooms, mainly over shared on-line documents.
We still expect that a student who focuses on their essay can have a complete, edited document ready by the end of the four-day session. If it takes a little longer, we will of course continue to work with you until the end of July, if necessary, to make sure the essay is done to your satisfaction.
What if I am applying to a non-Common App college?
JumpStart's teachers will work with you on a college essay of your choice –- the Common App is simply the most...well, common. Well-named, as it turns out! Schools that do not use the Common App often require a personal statement or offer another prompt that is very similar to one of the Common App prompts. We have had students complete non-Common App essays every year, including those for the (relatively new) Coalition for Access, Affordability, and Success.
What are the hours for the course?
Morning sessions start at 9:00 a.m.; evening sessions start at 4:30 p.m. Expect approximately 90 minutes on instruction and topic-generation exercises on Day 1, followed by individual conferences with each student; expect approximately 60 minutes on instruction and strategy on Day 2, followed by individual conferences with each student; after that, one-on-one conferences will keep happening until the essay is done. This is an iterative process, so we expect several loops of writing, feedback, editing/writing, feedback, editing/writing, etc. At 2.5 hours per day for four days, the session lasts a total of 10 hours.
What are the dates for the course?
SUMMER 2022: Scheduled sessions will be held in late June, early July, and early August, exact dates TBD. Students from all schools are welcome to attend!



We're delighted that four of our 2021 sessions were fully subscribed, and that the two others also had robust classes, but mainly we love that we were able to work with almost 100 rising seniors who completed strong, personal essays!
Can't make one of our sessions? We'd still love to talk about options for working with you. Contact us for further information. We have done one-on-one essay tutoring every year; the schedule will be worked out to be mutually convenient to you and the JSML tutor. The price for one-on-one tutoring is $650, to cover as many meetings as necessary for you to get to a complete Common App essay that satisfies you.
How large are the classes?
The student-teacher ratio is no greater than 4:1. At least two teachers (and maybe all of us) will be present in any session, to make sure that each student receives feedback from multiple readers.
Does the course have one-on-one or group instruction?
Both! We open with group instruction for introduction, context, and idea-generation exercises, but even on Day 1 we meet one-on-one with each student. Day 2: some group instruction plus more one-on-one meetings. After that, it is all one-on-one until the essay is done.
How much does the course cost?
The camp costs $575 for the session, including all instruction, conferencing, and editing.
Where does JumpStart Main Line meet?
Online, in the video-conferencing app Zoom. You don't have to download any software, but we'll reach out to you to check technical specifications. We'll email you an invitation link shortly before your session begins.
During one-to-one Zoom conferences we often also "meet" in shared documents -- whatever makes the most sense for that student at that point in that essay!
Who can take JumpStart Main Line's essay camp?
All rising seniors are welcome! We have taught students from Radnor HS, Haverford HS, Great Valley HS, Lower Merion HS, Harriton HS, Conestoga HS, Methacton HS, St. Joes's Prep, the Baldwin School, Agnes Irwin School, Merion Mercy Academy, Malvern Prep, the Haverford School, the Shipley School, West Chester-Henderson, West Chester-Rustin HS, Downingtown West, Downingtown STEM, and several others. We have even had students Zooming in from Mexico and Germany and Washington State!

Bottom line: if you can get to us on Zoom, we will work with you!
What schools have our clients been accepted to?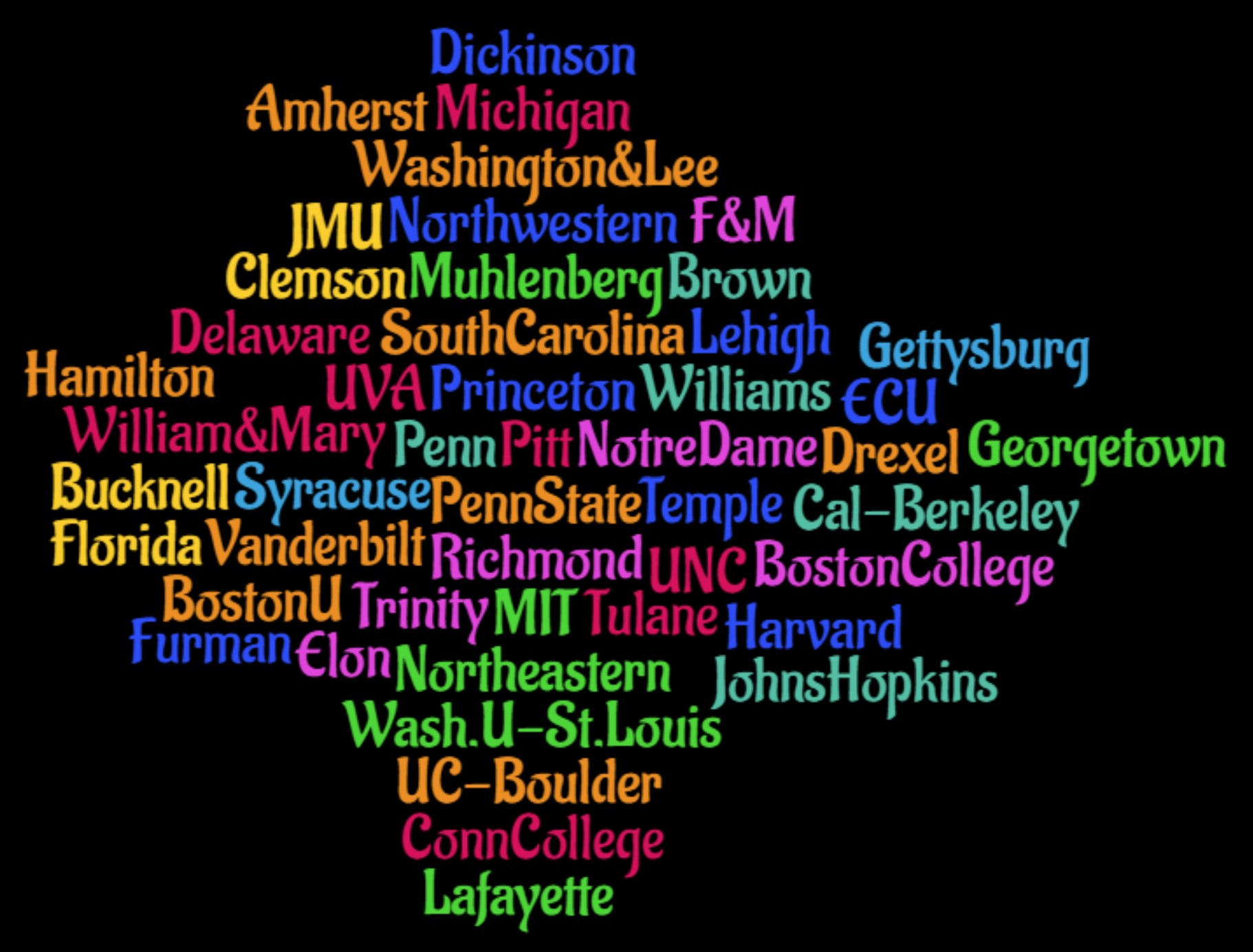 (Graphic: thanks to wordclouds.com)